Do you know Les lettres d'Alice?
It's a project of epistolary journalism that sends you each month an article in the form of a letter, to make you travel through the stories of a fictional friend, the famous "Alice" always on a road trip.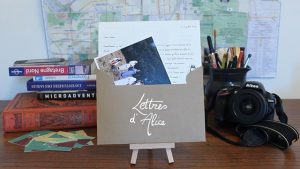 Alice's team, formed by Noémie, Morgane and Marie, was recently supposed to participate in a festival and to make visitors discover the concept.
Unfortunately, the event was cancelled due to the confinement. No problem! They decided to create their own festival and broadcast it live.
The idea? 5 hours of live broadcasting on the theme of travel, alternating round tables, workshops, readings, all thanks to a simple videoconference broadcasted simultaneously on social networks.
Les lettres d'Alice needed a streaming solution that would provide this service without the need for complicated or expensive installation, so they turned to Blastream. Our team was happy to help them set up the streaming in advance so they could approach their festival in the best possible way.
With a few minor details, everything went as planned, and even better! Indeed, one of the initiators of the project confided to us that she had been pleasantly surprised by the quality and the fluidity of the broadcast. She had already had the opportunity to realize such broadcasts with OBS and hardware (encoders, mixer), and the rendering was less good, for a much more complex installation.
Alice's team also appreciated the simplicity of managing the participants and the live event in general.
Indeed, Blastream aims to offer a streaming solution with a professional rendering accessible to all. The virtual console simplifies the production by centralizing the essential functions in the most instinctive interface possible.
Despite a short break, the live show initially planned for 5 hours lasted 10, attracting about 50 spectators at peak times. The audience was very enthusiastic to be able to participate in this experience, and in particular to be able to interact with the speakers of the workshops and round tables through the chat.
A successful bet for Les lettres d'Alice who intend to repeat the experience by evolving the format, even when the public events will be safe again.