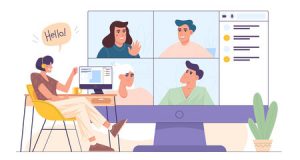 In order to set up your B2B events, you need to go through frequent steps such as:
capturing your live streaming or videoconferencing streams
produce and connect the different speakers' live scenes, and perform the scenarisation via a production team.
Broadcast simultaneously your live event on different internal/external platforms, such as your intranet, Youtube, Facebook, Twitch…
Ensure that the users receive well the live streaming
Those different production phases require numerous people and a lot of distinct technical tools to create your live event, a long and expensive process.
Why you should choose the Blastream solution?
Our all-in-one SaaS solution is entirely designed and hosted in France. You can integrate it directly with your platform thanks to our API. It is also available in full white-label with a complete autonomous production / cloud broadcast tool.
It brings together all the features needed to create, produce and broadcast your video livestreamings.
1
Customise your live events by integrating your logos and adapting the background, overlay, lower third and by creating your own templates.
2
Create and manage as many rooms as you want simultaneously and in full white label thanks to our API (1 room = 1 live video session).
3
Make the interactions between your speaker's talks more fluid, thanks to our "Low Latency" production features available from the cloud. Produce, broadcast and retrieve external video streams easily.
4
Interact remotely exactly as if you were all at the same place, by using the chat, poll and quiz features.
Create your own Blastream room in less than one minute
No download, no commitment, no credit card.