Seafood from Norway x Alexia Duchêne
The NSC "Norwegian Seafood Council" also known as "Seafood from Norway" created a promotion live for the media in 2019 in collaboration with chef Alexia Duchêne. In this cooking show broadcasted via Blastream, the semi-finalist of the 2019 "top-chef" competition cooked a Norwegian saithe.
In the manner of a report, a journalist introduced her subject and asked questions to Alexia Duchêne live from her home.
Thanks to Blastream, the spectators of the cooking-show were able to follow the live broadcast directly from the website of Seafood from Norway, without going through another platform.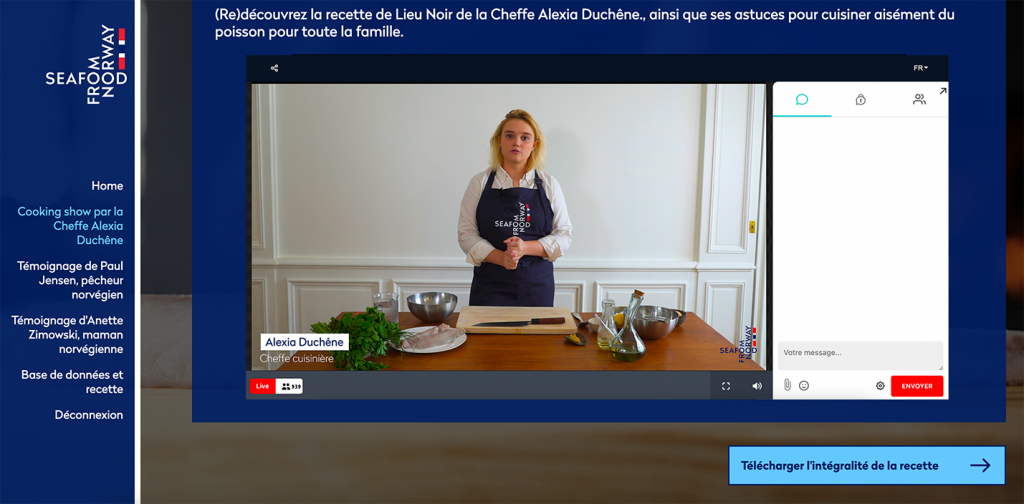 1
Create your Blastream room and simply integrate-it in white-label on your website using our API.
2
Host several thousand simultaneous video participants and over 20,000 viewers.
*On demand for more than 25 simultaneous videos.
3
Bring your audience together on your platform with a simple and interactive live interface.
4
Customize your lives by integrating your logos, wallpapers, overlay, lower third, and by creating your own templates.
5
Secure in a fine way the access to your live and modify the connection parameters of each user (nickname / role …)
Create your own Blastream room in less than one minute
No download, no commitment, no credit card.