Blastream is a 100% French startup that offers an all-in-one SaaS B2B video livestreaming solution, and allows to produce and broadcast a professional quality livestream from a simple web interface.
MWC: the meeting place for innovative technologies
At the 2022 edition of the Mobile World Congress (MWC), the world's largest mobile industry exhibition, global mobile operators, device manufacturers, and tech experts were able to showcase innovative products and technologies. This year, various themes were highlighted such as Fintech, artificial intelligence or cloud networks.
Among the major themes discussed during this event: the 5G connection
The use cases for 5G continue to grow as the healthcare, automotive, aviation and manufacturing sectors all turn to mobile solutions and prove that 5G is more than just a new generation of technology. By 2025, 5G networks will cover one-third of the world's population, becoming increasingly fluid, flexible and responsive to users' needs.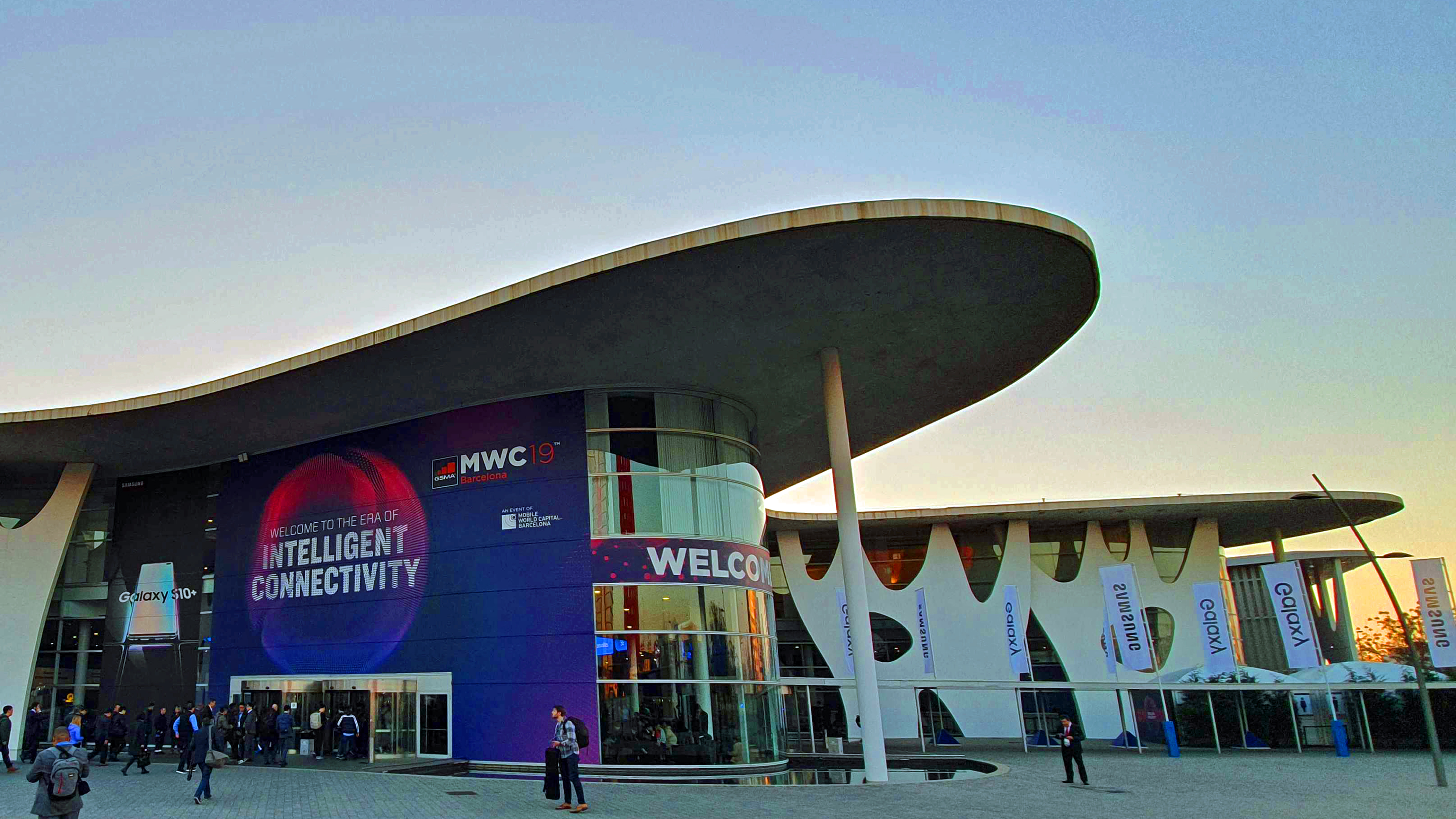 MWC's star attraction by Orange: drivers in Barcelona, cars in Paris
In Barcelona, where the MWC took place, a very special booth piqued the curiosity of visitors
On the 5G booth of the Orange lab, visitors were able to use their smartphones to drive miniature cars on a circuit located at Orange Gardens in Paris. The drivers, located more than 1000km away from their cars, were able to drive them in perfect fluidity thanks to the Orange 5G network.
Cameras were installed on the cars, the circuit and on the stand to film the drivers. These different shots were sent to Blastream for professional quality production and broadcasting. Thus, the public could attend the live broadcast of the races with ultra-low latency.
Blastream features highlighted for this live broadcast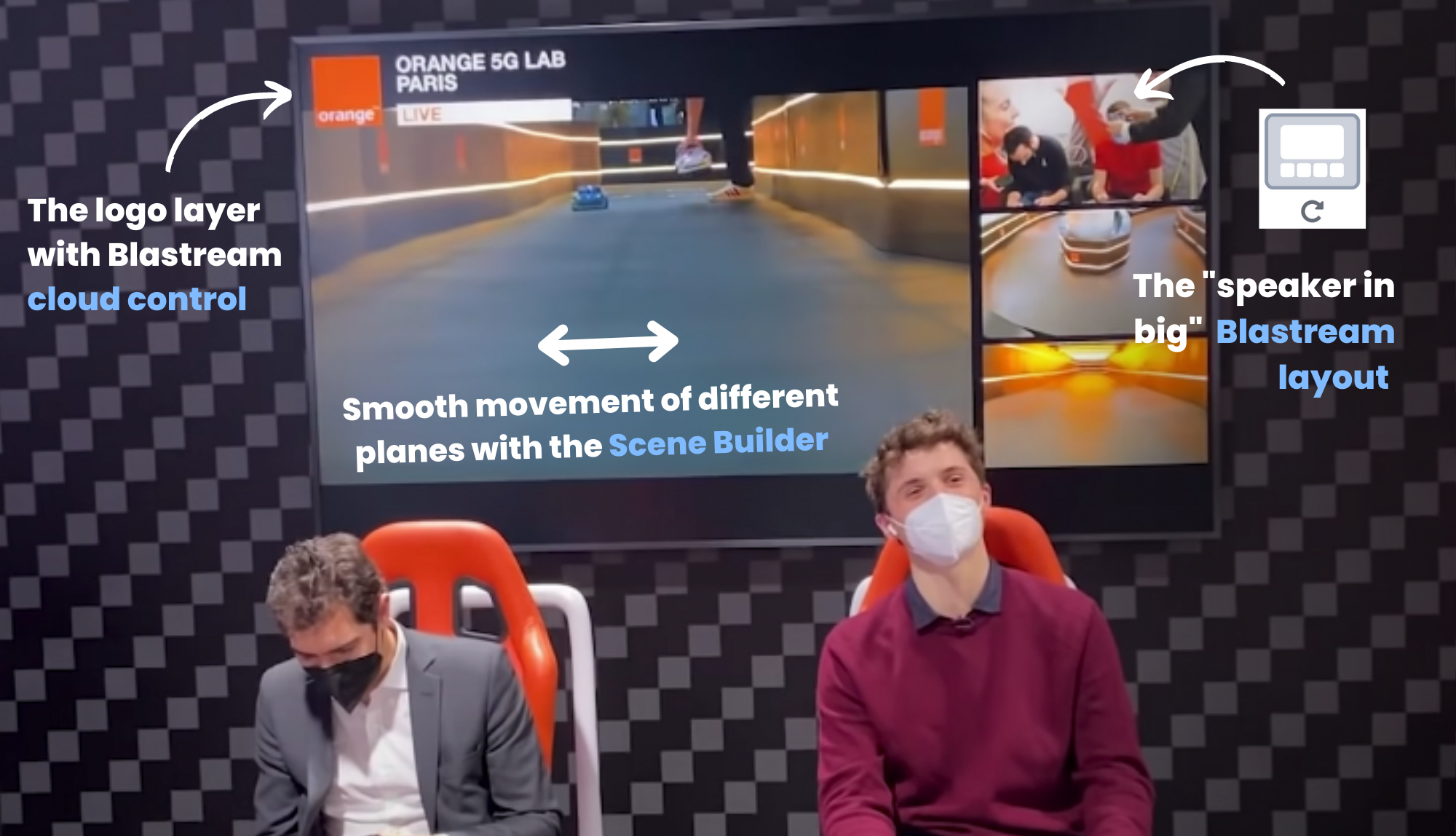 Thanks to Blastream's cloud control, the live operators were able to produce the miniature car race live:
Smoothly changing different camera layouts of the track, cars and drivers using the scene builder. Each scene was prepared before the live event in the Blastream room.
The Orange Lab 5G logo displayed on the video with the cloud control's layer function
An original display of the different cameras with Blastream's "Speaker in Big" layout
Behind the scenes of the live video production
With the different camera shots, about twenty scenes were created on the Blastream scene builder. The directors of the live show used a Streamdeck for better fluidity and convenience when changing scenes. The Streamdeck is a tool that allows you to associate a physical button with a command or a shortcut.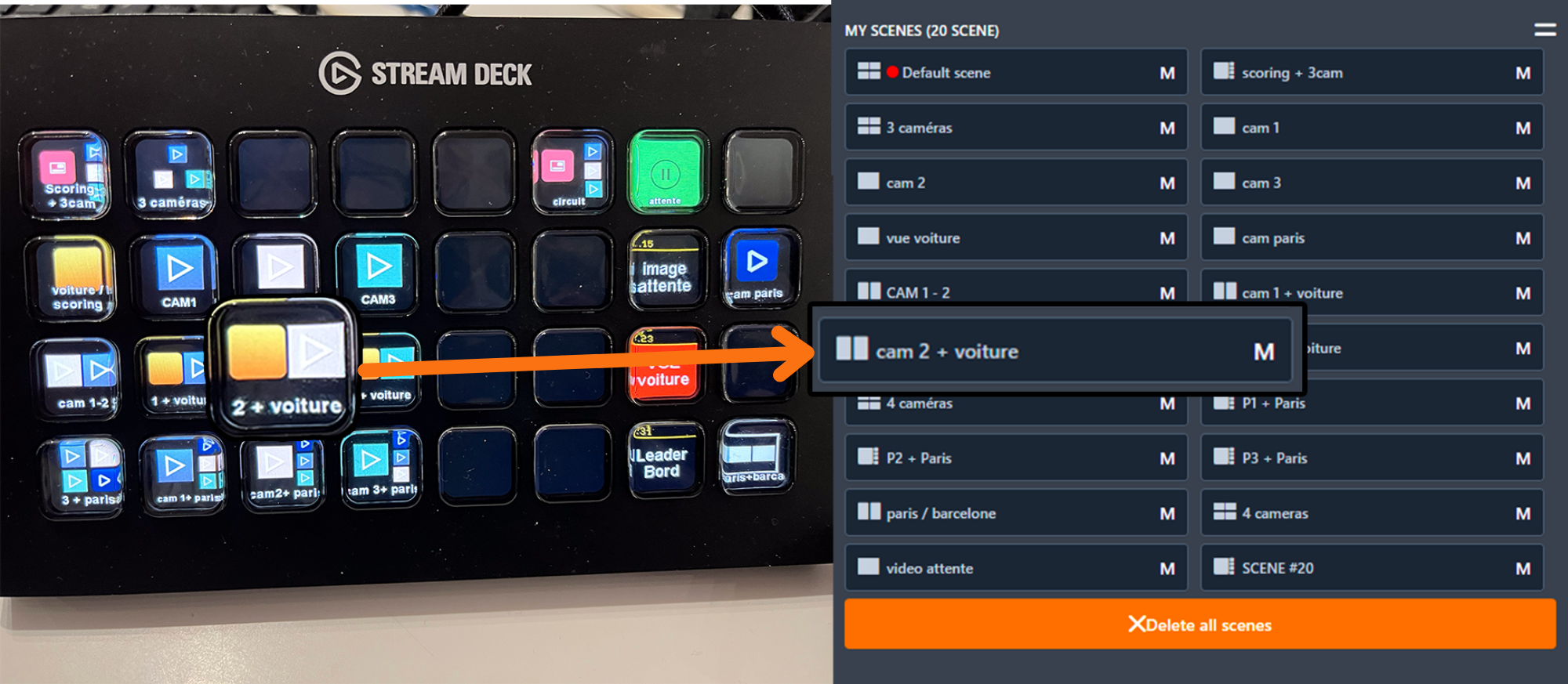 For this event, each scene from the scene builder was associated with a keyboard shortcut. And on the Streamdeck, the buttons were each associated with corresponding keyboard shortcuts, allowing a smooth and qualitative live rendering.
Thanks to Orange for their trust, and to Mediactive Group, Havas and Vrombr for making this impressive technological demonstration possible.