Blastream is a 100% French startup that offers an all-in-one SaaS B2B video livestreaming solution, and allows you to produce and broadcast a professional quality live stream from a simple web interface.
---
Discover these easy-to-use Blastream features and their benefits for you and your speakers.👉
1) Collaborator list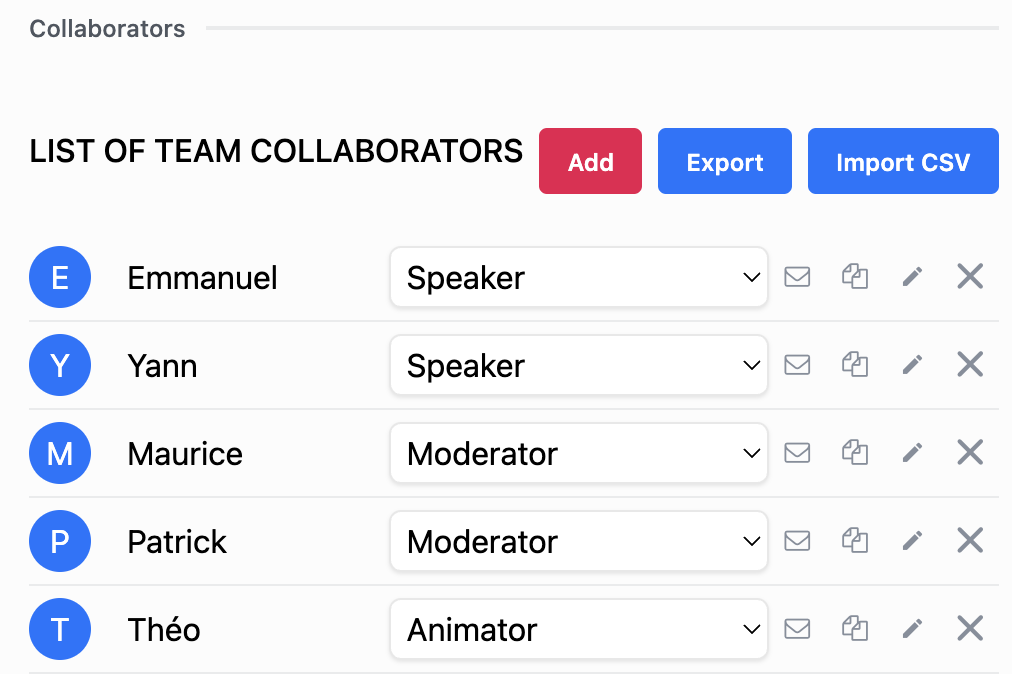 Blastream lets you keep a list of your collaborators and define their roles in your live event in advance, whether they are speakers, moderators or hosts.
👉 Learn more about the different types of collaborators.
When you add a new collaborator, you can enter several pieces of information about them:
Their email, nickname or name in your room, a description (e.g. job title), their status, their avatar and the group they are assigned to.
Once the collaborator is added, you are offered to send him an email or to share his personalized link so that he can connect to your room.
Animator advantage : this list allows you to have all your collaborators within easy reach, invite them by email in one click and secure access to your Blastream room.
Speaker advantage : the collaborator already has his information filled in beforehand, he can simply connect via his personalized link and fully concentrate on his role in the room.
Find out more about this feature here
2) Backstage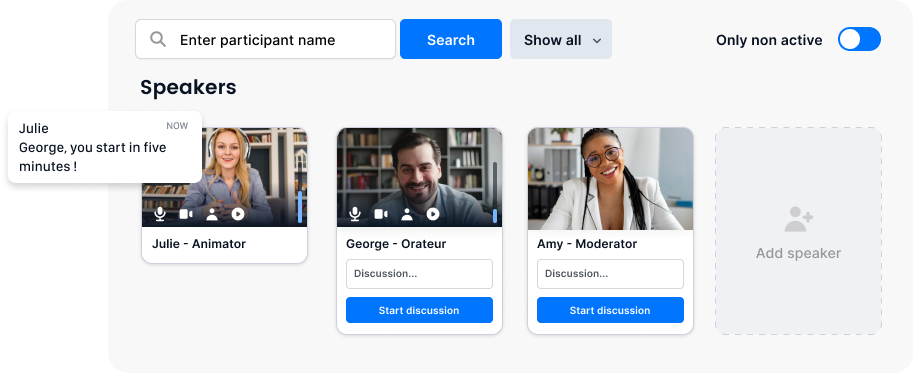 Just like backstage at a theater, prepare your speakers serenely via the backstage before sending them live at the desired moment. You can easily communicate in text or audio to all your speakers or individually.
Avantage animateur : the backstage allows you to keep control of who speaks and to anticipate the speeches to make the live event more fluid.
Avantage intervenant : the speaker doesn't have to manage his camera and microphone, the host simply warns him by audio or in writing when he has to speak, allowing him to concentrate only on his presentation!
Find out more about this feature here
3) Auto-mute

The automute function automatically mutes all speakers except the main speaker, designated by the animator.
This function is to be used, for example, when only one person needs to speak at a time without being disturbed by external noise.
Animator advantage : the automute allows you to avoid worrying about possible microphone or speech cut-off problems that could affect the audience's experience.
Speaker advantage : The speaker (main speaker) can feel secure in the knowledge that he or she will not be interrupted by outside noise or be cut off when not needed. The other speakers don't have to think about turning off their microphone when they are not speaking.
Create your Blastream room in less than a minute 👉        Start Blastreaming